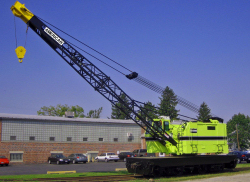 Click to enlarge image.
American & Ohio Locomotive Crane Co. (AOLCrane™) is the worldwide O.E.M. for "NEW", "Used", and "Remanufactured" locomotive cranes and Genuine O.E.M. locomotive crane parts.

AOLCrane™ supplies complete in-house remanufacturing, in-house upgrades, on-site repairs, crane inspections, unit exchange assemblies, boom repairs, on-site training, and unit exchange traction generators and motors.